Heating & Cooling in Avon Lake, Ohio
Avon Lake HVAC Installation, Repair & Maintenance
You rely on your HVAC system for year-round comfort. When your system fails you, you need professional heating and air conditioning services, and you need them fast. Since 1944, Bay Heating & Air Conditioning has been providing superior heating and air conditioning services in Avon Lake, OH, and the surrounding areas. No heating or cooling problem is either too big or too small for us to handle. Whether you need furnace repairs, air conditioner installation, or a full system inspection, our team is ready to get the job done.
With years of combined experience and state-of-the-art HVAC tools and equipment, we have what it takes to get any HVAC job done quickly, efficiently, and correctly. Take a look at our client reviews and see why we are the most trusted heating and cooling company in Avon Lake, Ohio, and the surrounding areas!
​​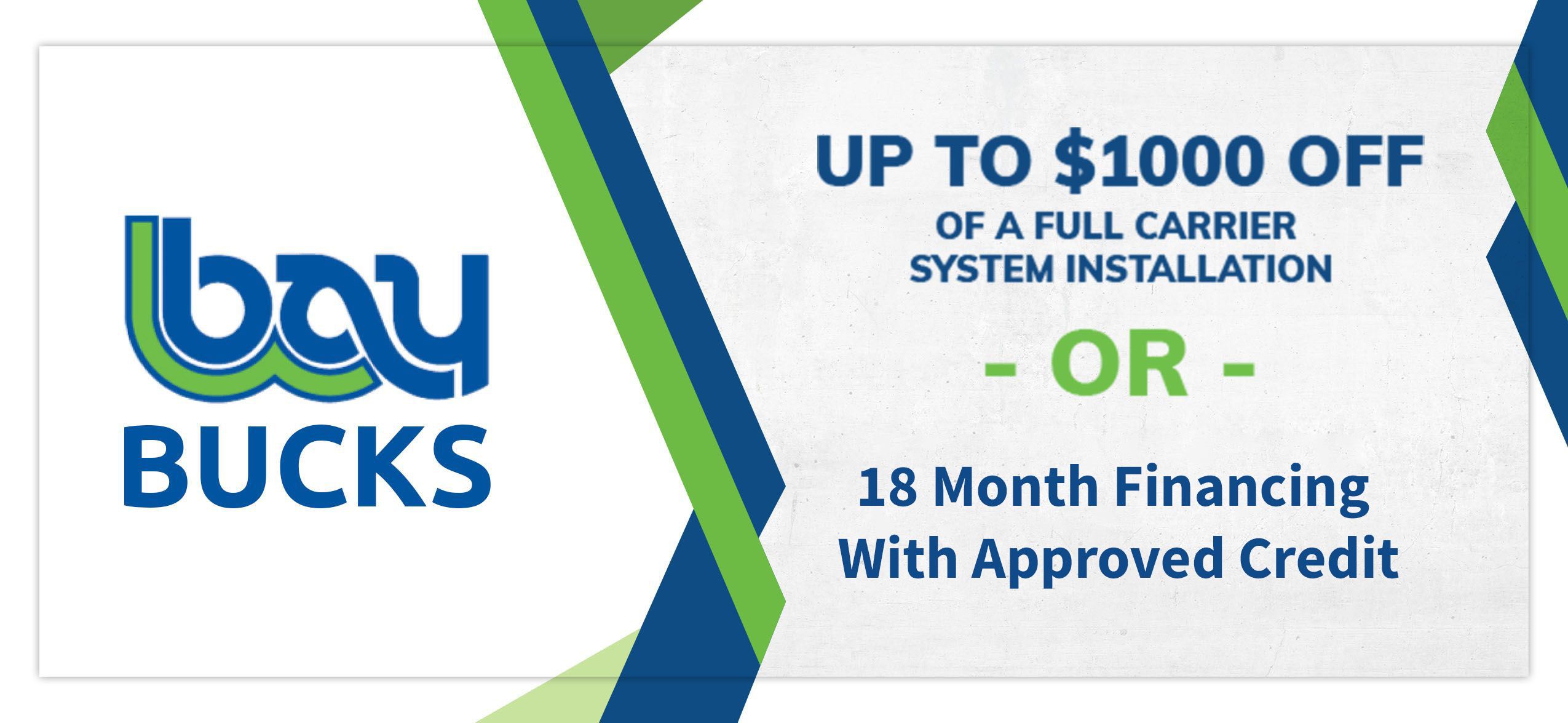 Schedule your appointment today—call (440) 294-4954 or contact us online. We are available by appointment after hours and on weekends.
AC Installation & Repair in Avon Lake
At Bay Furnace, our team, of experts makes sure to use high-quality material and equipment for all of our AC installations and repairs. We understand how important each process is for ensuring the optimal functioning of your air conditioning system, and for making sure to avoid potentially costly damages in the near future. We are experienced in repairing and maintaining various different types of ac systems. Are you looking to install an air conditioner in your new home? Perhaps you are looking to upgrade to the latest AC model, or want to maintain and repair your AC for optimal functioning. Whatever the case, you can rest assured that our team of professionals will get the job done for you the right way.
AC Repair Benefits
Repairing and maintaining your air conditioning system is important, and offers homeowners a number of great benefits. Some of the benefits that come with AC repair and maintenance include the following:
Improved indoor air quality: One of the most important things about AC repair and maintenance is that proper AC repair services will help enhance the air quality of your home. If your AC is left without cleaning and maintenance for long periods of time, it can develop dirt and mold which can be health concerns for you and your family.
Decrease in humidity levels: Another great thing about proper AC repair and maintenance is that it can help to decrease humidity levels in your home, creating a more fresh and comfortable atmosphere.
Increased lifespan: AC repair and maintenance will also help to add longevity to your air conditioning system so that you can avoid costly repairs or replacements in the future.
Furnace Installation & Repair in Avon Lake
Our team of experts can work with a variety of different furnaces, including gas furnaces, and electric furnaces. Whatever heating system you are looking to install, repair or replace in your home, we got you covered. We offer a selection of different heating systems in addition to furnaces, including boilers and heat pumps as well. Please don't hesitate to contact us to learn more about how we can make your home a better, more comfortable place for you and your family.
Signs you need furnace repair:
Your furnace is emitting unpleasant smells
Your furnace is leaking
It's difficult to turn on your furnace unit
There are uneven temperature spots in your home
Your energy bills have been increasing
Your furnace smells like its having a gas leak
Your furnace is making strange noises
If you notice any of these signs with your furnace, we strongly encourage you to contact an HVAC professional as soon as possible. Leaving a furnace problem unattended can lead to worse damage and costly replacements that can be avoided with timely repair services. If your furnace smells like a gas leak, it's especially important to consult a professional, as this can be dangerous for you and your family.
Types of HVAC Systems We Install & Repair
As Carrier Dealers for the past 40 years, we offer a number of top-of-the-line products from industry-leading brand Carrier. We are capable of properly installing your new Carrier system, but we are also trained in installing, repairing, and servicing all makes and models of HVAC equipment.
Our NATE-certified technicians can install, repair, or tune-up the following types of systems:
Gas furnaces
Electric furnaces
Central air conditioners
Ductless mini-split systems
Heat pumps
Air filtration and purification systems
Packaged units
Commercial HVAC systems
When installing or servicing your system, we can help you find ways to improve your energy efficiency and save money every month on your utility bills. With regular system maintenance, we can also help you save money in the long term, as routine tune-ups reduce the likelihood of breakdowns and extend the lifespan of your system.
Expert HVAC Service in Avon Lake
With a large team of highly trained, experienced technicians and a fleet of fully stocked trucks, Bay Heating & Air Conditioning is ready to assist you with all your Avon Lake heating and air conditioning service needs. We invite you to browse our reviews to see what your friends and neighbors are saying about our top-notch HVAC services, or contact us directly to request a service call today. We offer fair, reasonable pricing and financing opportunities, subject to credit approval.
Call (440) 294-4954 to speak to a friendly and knowledgeable member of our team today.