Westlake Indoor Air Quality Services
Helping Home & Business Owners in Cuyahoga County Breathe Easy
No one should have to worry about the quality of air they breathe in their home or business. Unfortunately, dirty air ducts and poorly maintained HVAC systems can be havens for dust, dander, pollen, bacteria and other triggers that can worsen allergies, asthma, and other respiratory issues. In addition to being trapped in your heating and cooling systems, airborne irritants can also lurk in the carpets, walls, and surfaces of your home or commercial property. If you are looking to improve the indoor air quality in your home and create a healthier living environment for you and your family, you can count on us to get the job done for you.
Indoor air quality has a dramatic effect on your overall health, comfort, and well-being, and Bay Heating & Air Conditioning is committed to helping you bring the quality of air inside your home or business up to a safe and healthy level. We offer a number of indoor air quality systems to choose from; our technicians can help you find the right solution for your space. Our Westlake HVAC experts use one high quality material and equipment during all indoor air quality services, in order to ensure that we are providing our customers with the very best services.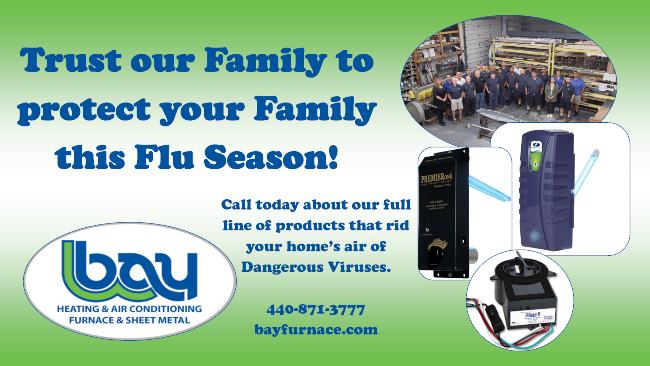 Take the first step to improve your indoor air quality today! Schedule an in-person estimate by calling us at (440) 294-4954 or by contacting us online.
Offering a Range of Air Quality Solutions In Westlake
The air inside your home could be even more polluted than the air outside. The Environmental Protection Agency notes that indoor air quality is one of the top threats to public health. While homes today are better constructed, more energy-efficient, and virtually draft-free, they also pose filtration problems. Particles and pollutants can become trapped and recirculated throughout your home without the means to escape.
At Bay Heating & Air Conditioning, we offer a range of indoor air quality systems to suit your needs. Depending on your situation, one or more of these can be used in tandem to reduce any air quality issue you may have.

Our Westlake indoor air quality services and solutions include:
Air Filtration: Air filters that capture small particles with high efficiency
Humidification/Dehumidification: Sized for your space; monitor the moisture in your home
Purification: UV light systems designed to kill mold and bacteria
Ventilation: Ensure proper ventilation and clean ducts for better indoor air quality
Trusted Westlake HVAC Experts
When it comes to your indoor air quality in Westlake or the surrounding areas in Cuyahoga County, we highly recommended that you work with a qualified professional. Your safety and comfort are on the line.
Since 1944, Bay Heating & Air Conditioning has been utilizing cutting-edge technology and ongoing technician training in order to provide the highest level of service to our customers. We stand by our motto: "If you don't sacrifice your comfort, we won't!" If you are looking for professional indoor air quality solutions in Westlake, OH and the surrounding area, you can count on us to make your home a safer, healthier and more comfortable place for you and your family.
Call us at (440) 294-4954 to learn more about our indoor air quality solutions. We have online promotions and special offers!
Why Choose Bay?
Learn Why We're The Right

Choice For You
The Bay Comfort Promise

We are committed to our customers. We aren't done with a job until you are comfortable, guaranteed.

Family Owned & Operated

As a family-owned business we understand the importance of quality in your home and we'll take care of yours as if it was our own.

Warranties That Matter

We provide a thirty-day warranty on all repairs completed and a one-year labor warranty on all new installs.

Expert Technicians

We are mindful in who we hire to ensure you are getting the very best work every time.

One Stop Shop

We are a full service company so we guarantee everything done is completed with the highest standard.

75 Years Experience

We've been in business since 1944 and we're bringing that experience to every job completed.
Keeping Your Systems In Line Year Round!
Learn more about the Bay Comfort Promise Membership plan to see what we can do for you in every season.
We Love Our Customers & They Love Us
Read Reviews From Happy Bay Customers
Convenient to schedule and arrive on time - Ryan A.

Cleaned up the work area as if they were never there - Diana G.

Our basement was cleaner than when they arrived - Nancy B.

Everything you'd wish your other service professionals were - B.J.

Always does a great job and is friendly and kind - Katie B.