Bay Comfort Promise Membership Plan
Keeping Your HVAC System Maintained & Working All Year Long
There's a good chance you rely on your heating and cooling system all year long. Blistering summer days give way to cold winter nights, which means you need a furnace and air conditioner that are ready at a moment's notice. This also means your HVAC equipment is prone to some pretty significant wear and tear that can build up over time. At Bay Heating & Air Conditioning, we know how stressful a broken heater or air conditioner can be, and we want to help you avoid one at all costs. That's why we're proud to be the partner you can depend on when it comes to keeping your HVAC equipment working perfectly. If you're looking for complete peace of mind about your system, join our Bay Comfort Promise Maintenance Program!
What Is the Bay Comfort Promise Membership Plan?
The Bay Comfort Promise Membership Plan is a maintenance agreement where our team takes control over the maintenance and upkeep on your air conditioning and heating equipment. All membership plan members receive two annual inspection and tune-up services designed to keep their HVAC equipment working efficiently and dependably through even the roughest months of the year. Our members receive automatic reminders when it's time to schedule the next inspection, plus a number of additional benefits that make membership one of the best values you can get for your HVAC system!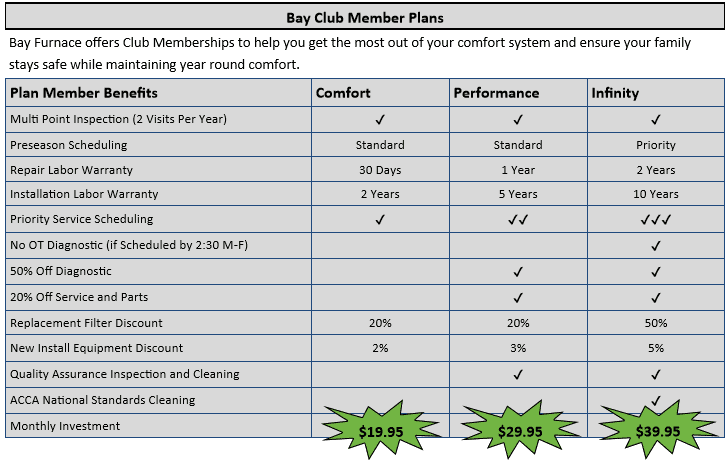 Learn more about joining the Bay Comfort Promise Membership Plan by calling us at (440) 294-4954 today.
Three Levels of Care for Your Home
Bay Heating & Air Conditioning offers a comprehensive maintenance plan that works with your budget and your desired level of care and protection. Whether you're looking for quality maintenance and care for your furnace and air conditioner while on a tight budget or you want comprehensive and ongoing protection for your system, we have a solution for you. All of our plans enjoy an array of outstanding benefits and perks, and each is designed to save you money while keeping your air conditioning and heating system working at its best.
All of our maintenance plans receive:
Two multi-point inspection services per year
The ability to schedule inspections before the beginning of the season
Automatic reminders when it's time for an inspection
A warranty on all repair labor
A warranty on all installation labor
Priority service scheduling
A discount on all replacement air filters
A discount on all new equipment installation services
Our plan is available at three different levels: Comfort, Performance, and Infinity. Our Comfort level maintenance plan is our most budget-friendly option, offering you a number of outstanding benefits for just $19.95 per month. Our Performance level maintenance plan of services offers increased benefits in addition to superior protection for your system for just $29.95 per month. Finally, our Infinity level maintenance plan offers superior protection for your system and some of the best benefits and perks you'll find from any ongoing maintenance plan anywhere! You'll receive the highest priority scheduling, guaranteed pre-season maintenance appointments, and the longest warranties on all repair and installation services!
Regardless of what level you choose, your club membership can be set up to automatically pay every month straight from a credit or debit card or your bank account! No more worrying about making payments on-time, no more worrying about your system going unprotected, and no gigantic annual lump-sum fees which put a dent in your expenses.
Why Maintain Your Heating & Cooling System?
Maintaining your HVAC equipment offers a multitude of benefits for both your system itself and for your entire home. Systems which are well-maintained will generally last longer, offer better reliability, and even save you money throughout the course of both your heating and cooling season!
Maintain peak energy efficiency of your HVAC system
Reduce wear and tear on your equipment
Conserve energy and save money every month on utility bills
Extend the lifespan of your heating and cooling equipment/system
Reduce the likelihood of unexpected and costly repairs
Improve the indoor air quality of your home or business
Enjoy greater peace of mind in knowing you and your family will always be comfortable
Contact Bay Heating & Air Conditioning to sign up today!
Why Choose Bay?
Learn Why We're The Right

Choice For You
The Bay Comfort Promise

We are committed to our customers. We aren't done with a job until you are comfortable, guaranteed.

Family Owned & Operated

As a family-owned business we understand the importance of quality in your home and we'll take care of yours as if it was our own.

Warranties That Matter

We provide a thirty-day warranty on all repairs completed and a one-year labor warranty on all new installs.

Expert Technicians

We are mindful in who we hire to ensure you are getting the very best work every time.

One Stop Shop

We are a full service company so we guarantee everything done is completed with the highest standard.

75 Years Experience

We've been in business since 1944 and we're bringing that experience to every job completed.
Keeping Your Systems In Line Year Round!
Learn more about the Bay Comfort Promise Membership plan to see what we can do for you in every season.
We Love Our Customers & They Love Us
Read Reviews From Happy Bay Customers
Convenient to schedule and arrive on time - Ryan A.

Cleaned up the work area as if they were never there - Diana G.

Our basement was cleaner than when they arrived - Nancy B.

Everything you'd wish your other service professionals were - B.J.

Always does a great job and is friendly and kind - Katie B.