Westlake Heating Installation
One-Year Warranties on Heater Installations in Cuyahoga County
Although most heating systems are designed to last a relatively long time, they will all eventually need to be replaced—especially with frequent and consistent use. Bay Heating & Air Conditioning offers professional heater replacement in Westlake and throughout Cuyahoga County and the surrounding areas. For more than three generations, we have been proudly serving home and business owners throughout the region, offering top-quality heating solutions at fair, reasonable rates.
We can install all types of heating systems for you. Whether you are looking to upgrade your heater to the latest technology, or are looking to install a heater in your new home, we got you covered. Our team of heating pros has the tools and experience necessary to ensure that your new heating system is installed safely and effectively. Take a look at our customer reviews and see why we are the most trusted heating service provider in Westlake and throughout Cuyahoga County and the surrounding areas!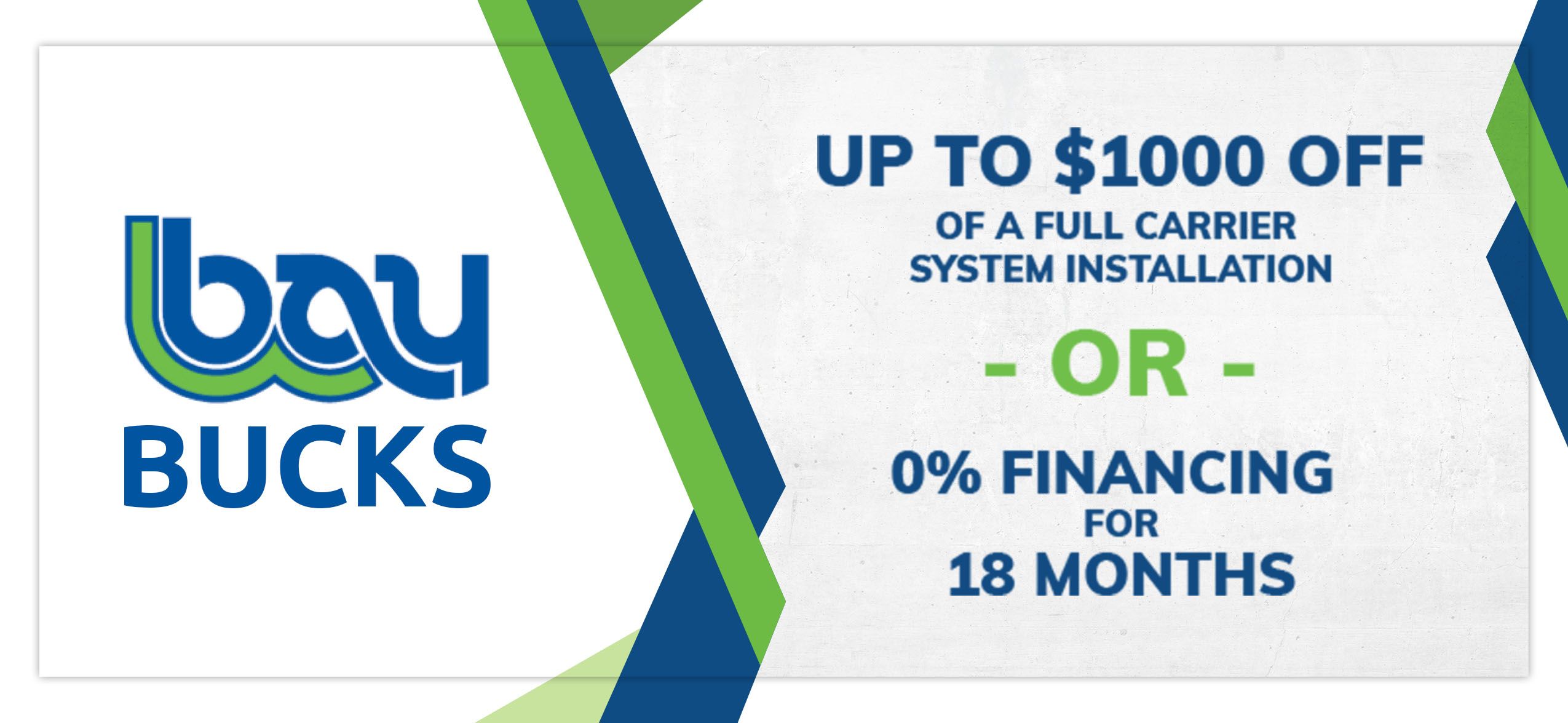 Call us at (440) 294-4954 or contact us online to request an appointment for heater replacement today. We look forward to serving you!
Types of Heating Systems We Offer & Install
We offer a range of HVAC products from Carrier and can help you find the right solution for your space and unique comfort needs. We are equipped to handle both residential and commercial HVAC installs.
Our NATE-certified technicians can install the following heating systems:
Dual-fuel/hybrid systems
Gas furnaces
Gas packs
Oil furnaces
When it comes to staying warm, you deserve a system you can trust and a team of professionals you can count on when things go wrong. Our specialists can work closely with you to recommend and install the right heater for your comfort preferences and your budget. All our installations come with a one-year labor warranty.
Signs You Need to Replace Your Heater
With the recent advances in HVAC technology, older heaters simply can't match modern systems. Modern heating systems are much more energy-efficient, making them a worthwhile investment. With proper installation and regular maintenance, your heater can provide you with complete comfort for years to come.
Our technicians will take the time to evaluate your existing unit, consider your specific heating needs, and suggest a heater to replace your current system. We always offer only our honest and professional recommendations.
You may want to have your heater replaced if it:
You have noticed an unexplained increase in your energy bill
Your heating system is extremely loud
Your heating system requires frequent repairs
Your heating system is 15 years old or older
Your heater does not provide even, consistent heat
Your furnace's pilot light is discolored (or has turned yellow)
Your heating system gives off unpleasant odors
You have decreased in energy efficiency
Your heater cannot keep up with your comfort needs
You have hot and cold spots throughout your home
Your heater keeps turning off and on again (short-cycling)
Your home feels humid
Your heating system has visible signs of cracking or rust
You have poor indoor air quality (including dust, dirt, rust, or soot particles)
Providing Personalized Heating Solutions
At Bay Heating & Air Conditioning, your comfort is our priority. We understand that no single solution works for everyone; we provide expert advice but always defer to your judgment about what is right for your home or business. Our Westlake heater replacement and installation are ready to help you with your heating needs.
Suggested Reading:
Schedule your appointment with our award-winning team; call (440) 294-4954 today!
Why Choose Bay?
Learn Why We're The Right

Choice For You
The Bay Comfort Promise

We are committed to our customers. We aren't done with a job until you are comfortable, guaranteed.

Family Owned & Operated

As a family-owned business we understand the importance of quality in your home and we'll take care of yours as if it was our own.

Warranties That Matter

We provide a thirty-day warranty on all repairs completed and a one-year labor warranty on all new installs.

Expert Technicians

We are mindful in who we hire to ensure you are getting the very best work every time.

One Stop Shop

We are a full service company so we guarantee everything done is completed with the highest standard.

75 Years Experience

We've been in business since 1944 and we're bringing that experience to every job completed.
Keeping Your Systems In Line Year Round!
Learn more about the Bay Comfort Promise Membership plan to see what we can do for you in every season.
We Love Our Customers & They Love Us
Read Reviews From Happy Bay Customers
Convenient to schedule and arrive on time - Ryan A.

Cleaned up the work area as if they were never there - Diana G.

Our basement was cleaner than when they arrived - Nancy B.

Everything you'd wish your other service professionals were - B.J.

Always does a great job and is friendly and kind - Katie B.