Carrier Infinity Series Central Air Conditioner



INFINITY® 19VS CENTRAL AIR CONDITIONER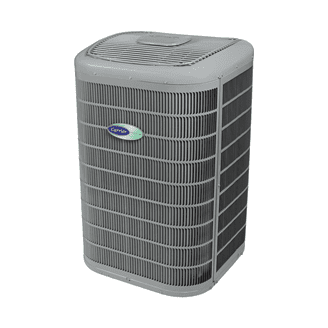 The Infinity 19VS is different in a lot of ways. It offers variable-speed compression that can step down in 5 stages to as low as 25% of its capacity. That's huge from a comfort perspective. The ability to run in lower speeds most of the time makes it quieter and more adept at removing humidity and keeping temperatures even. Plus, those lower speeds are the sweet spot for the unit's best efficiency levels and for getting the most benefit out of other systems you might have like an air purifier because of more constant air flow through the system.
And, it's seldom you can upgrade your system a component at a time. Most often, the leap to higher efficiency and better comfort via a communicating system for that home you love can mean you have to deal with the cost of a whole system even though only your AC has called it quits. The Infinity 19VS could change that for you. Your Carrier® expert can help you determine if it can work with your existing indoor unit so you can upgrade in steps.
Why Choose Bay?
Learn Why We're The Right

Choice For You
The Bay Comfort Promise

We are committed to our customers. We aren't done with a job until you are comfortable, guaranteed.

Family Owned & Operated

As a family-owned business we understand the importance of quality in your home and we'll take care of yours as if it was our own.

Warranties That Matter

We provide a thirty-day warranty on all repairs completed and a one-year labor warranty on all new installs.

Expert Technicians

We are mindful in who we hire to ensure you are getting the very best work every time.

One Stop Shop

We are a full service company so we guarantee everything done is completed with the highest standard.

75 Years Experience

We've been in business since 1944 and we're bringing that experience to every job completed.
Keeping Your Systems In Line Year Round!
Learn more about the Bay Comfort Promise Membership plan to see what we can do for you in every season.
We Love Our Customers & They Love Us
Read Reviews From Happy Bay Customers
Convenient to schedule and arrive on time - Ryan A.

Cleaned up the work area as if they were never there - Diana G.

Our basement was cleaner than when they arrived - Nancy B.

Everything you'd wish your other service professionals were - B.J.

Always does a great job and is friendly and kind - Katie B.