Carrier Controls and Thermostats
Carrier Infinity Control
INFINITY® SYSTEM CONTROL
The Infinity® System Control is designed for homeowners who understand the value of precision comfort and an easy to use, intuitive user interface. With wireless connectivity, occupancy sensing capabilities and built-in smarts, the Infinity System Control puts you in command of comfort and energy savings like never before.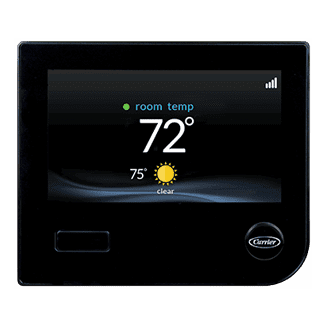 As part of a complete, communicating Infinity® System, this smart control takes full advantage of the best technology Carrier has to offer, including Greenspeed® technology and Hybrid Heat® system management. Taking your comfort well beyond temperature control, the Infinity System Control can manage humidity levels, airflow, ventilation, indoor air quality and up to 8 zones, from wherever you are, with a connected smartphone or tablet. It's also compatible with Amazon™ Alexa™.
Energy-conscious homeowners will especially appreciate the energy tracking and reporting, as well as the occupancy sensing ability that can automatically set the system back to maximize savings when you are away.
Simple, powerful and convenient, the Infinity System Control takes your comfort to the next level.
CÔR® WI-FI® THERMOSTAT
Your heating and cooling system is where you spend most of your energy dollars so saving on your utilities is important. The innovative Côr® thermostat has been Energy Star® certified and is designed to combine home comfort with reduced energy use; homeowners saved an average of 20% on their heating and cooling energy costs. It's what we call the heart of a smarter home.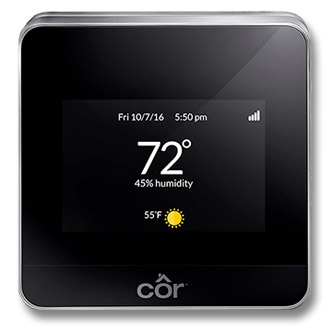 It's all about helping you keep your hard-earned money through smart energy use. Features like Ideal Away™ let the thermostat intelligently adapt beyond manual programming for greater efficiency, while still meeting your ideal comfort levels. Energy reports help you see exactly when your energy dollars are being spent so you can modify settings to maximize savings. It will even provide you customized energy saving tips.
And, if your system includes a Carrier heat pump and a furnace, its energy smart design can orchestrate their use as a Hybrid Heat® system to further stretch your energy dollars.
This versatile thermostat is readily compatible with a number of HVAC system types and brands to allow you to upgrade to convenient remote access control and energy saving intelligence. All you need is an Internet connection and you can have complete control over your system from your couch or your favorite beach get-away.
Why Choose Bay?
Learn Why We're The Right

Choice For You
The Bay Comfort Promise

We are committed to our customers. We aren't done with a job until you are comfortable, guaranteed.

Family Owned & Operated

As a family-owned business we understand the importance of quality in your home and we'll take care of yours as if it was our own.

Warranties That Matter

We provide a thirty-day warranty on all repairs completed and a one-year labor warranty on all new installs.

Expert Technicians

We are mindful in who we hire to ensure you are getting the very best work every time.

One Stop Shop

We are a full service company so we guarantee everything done is completed with the highest standard.

75 Years Experience

We've been in business since 1944 and we're bringing that experience to every job completed.
Keeping Your Systems In Line Year Round!
Learn more about the Bay Comfort Promise Membership plan to see what we can do for you in every season.
We Love Our Customers & They Love Us
Read Reviews From Happy Bay Customers
Convenient to schedule and arrive on time - Ryan A.

Cleaned up the work area as if they were never there - Diana G.

Our basement was cleaner than when they arrived - Nancy B.

Everything you'd wish your other service professionals were - B.J.

Always does a great job and is friendly and kind - Katie B.