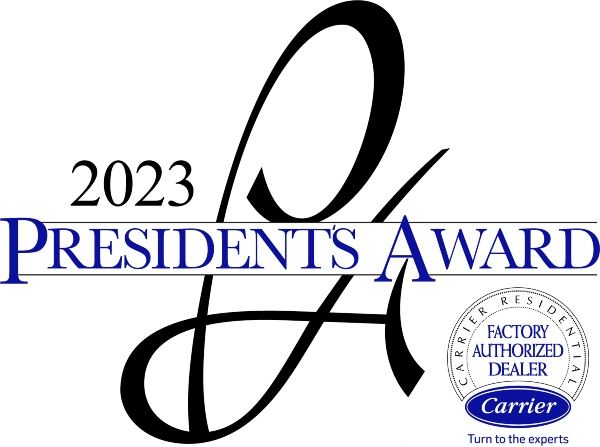 In recognition of its commitment to quality and leadership excellence in the heating, ventilation and air conditioning (HVAC) industry, Bay Heating and Air Conditioning recently received the 2023 President's Award from Carrier. Carrier is part of Carrier Global Corporation (NYSE: CARR), the leading global provider of healthy, safe, sustainable and intelligent building and cold chain solutions.
The President's Award is given to Carrier Factory Authorized Dealers who demonstrate technical expertise while serving as leaders for the Carrier brand and raising the standard for equipment sales.
The awarded dealerships are committed to service excellence and providing exceptional customer care.
Bay Heating and Air Conditioning specializes in HVAC service and installations for residential retrofit, new construction and custom homes, as well as commercial buildings and complete building restorations. In addition, the company's employees have volunteered with local and national organizations, such as Air Conditioning Contractors of America and the Village Project.
"Carrier is proud to honor Bay Heating and Air Conditioning with a 2023 President's Award for Quality and Leadership Excellence," said Justin Keppy, President, NA Residential & Light Commercial HVAC, Carrier. "Being named as a President's Award recipient amplifies the impact that Bay has made on the industry. They are a model for other Carrier dealers to follow."
The President's Award is designed to reward Carrier dealers who have excelled in customer satisfaction. This award presents the opportunity for recipients to serve as role models, share best practices and offer peer mentoring to help cultivate excellence across the Carrier independent dealer network.
To learn more about Bay Heating and Air Conditioning and its heating and cooling products and services, call (440)871-3777 or visit www.bayfurnace.com.